The details of
aluminum film vacuum coating Equipment/pvd plating machine /aluminum film coating machine
What is Vacuum metalizing?
§
Basically it is one form of Physical vapor deposition.
§
Essentially, this process was developed to imbue non-metal items with metallic properties
§
A process of combining metal with a non-metallic substrate through evaporation.
§
While there are many different metals to choose from when using this type of technology, aluminum is the most common due to its relatively low melting temperature and its very bright reflection.
§
Metalizing can be done to a part to give it mirror-like properties, or change its electrical properties, or to simply make it look more aesthetically pleasing.
§
Metal is vaporized inside a vacuum chamber and then it condenses back into solid metal on the item to be coated.
How Vacuum metalizing is done?
Process includes
§
Fabrication of custom tooling fixtures to hold and mask your parts during the vacuum metalizing and painting processes.
§
Base coating; For most decorative and reflective applications it is necessary to apply a specially formulated primer or basecoat to promote adhesion and to provide a smooth surface, assuring a high quality surface for the metalizing or finish paint steps.
§
Then vacuum metalizing itself
§
Top coating; only when it requires, topcoat is applied to enhance, moisture, abrasion, and chemical resistance.
Why Vacuum metalizing?
§
Vacuum metalizing has many uses including; EMI/RFI shielding, decorative chrome and metallic finishes, highly reflective coatings for light reflectors, heat shielding, vapor barriers, and more.
§
Metalizing can be done to a part to give it mirror-like properties, or change its electrical properties, or to simply make it look more aesthetically pleasing.
§
Highly reflective chrome like surface.
§
Low cost when compared to other plating methods.
§
Will not bury the detail in the part, but will show imperfections such as scratches and nicks.
§
Can be tinted for various colors: Gold, Brass, Copper, Red, Blue, Green and Black Chrome.
§
RF Shielding
Applications
Vacuum metallizing process is used for decorative metallic finishes, EMI/RFI Shielding, and Reflective coatings on plastic, glass, and metal substrates.
Vehicle Lighting and Components

Appliance Components

Commercial, Industrial, & Residential Lighting

Display Items, Cosmetic, & Product Packaging

EMI/RFI/ESD Shielding

Glassware & Mirrors

Consumer Products

Vapor Barrier Protection

Solar/Photovoltaics

Chrome Plating Replacement

Auto parts (centre panel products, side mirror covers, radiator grill face, keyless, louver parts), bike parts, cosmetic vessels, water purifier parts, reel parts

Car audio buttons, pull tabs, decorations, reel parts

Cosmetic vessels

(bottle caps, compacts)

Auto parts (Meter rings, dials, front panel control buttons, keyless)

Meter parts, tap parts

Automobile control buttons & button periphery rings, camera control buttons.

Audio devices (ornaments, buttons, speaker cones)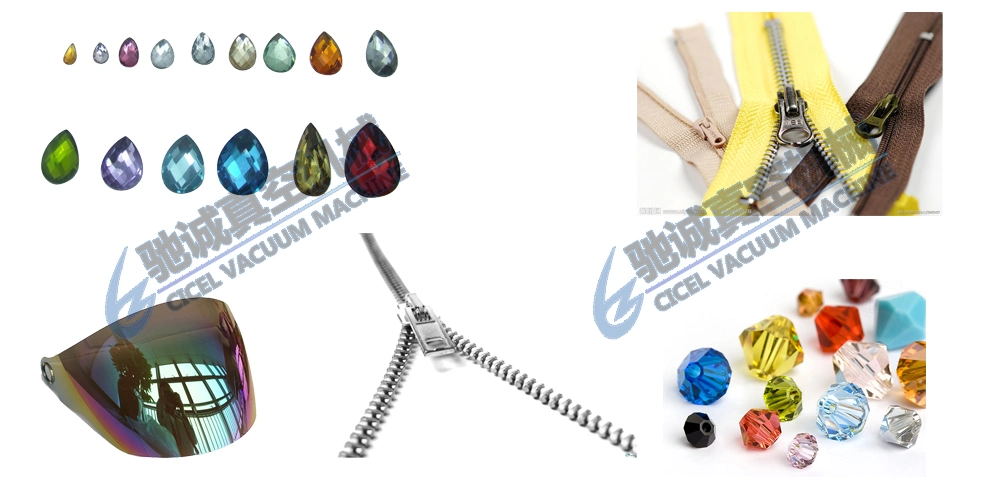 Our factory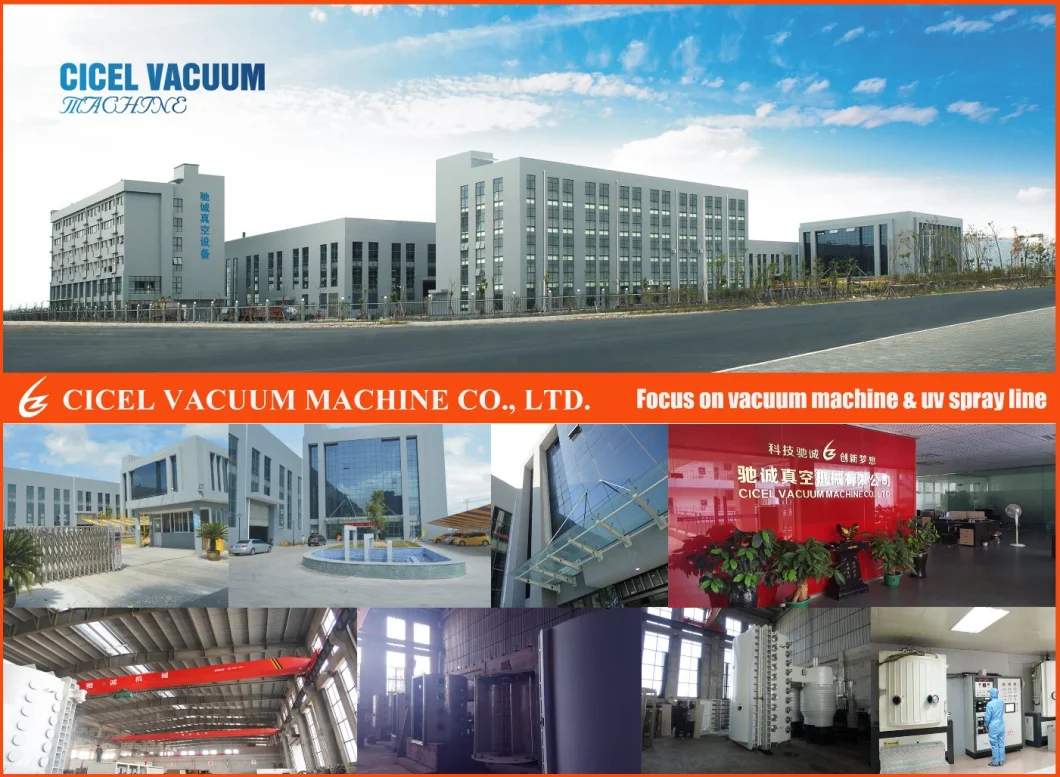 Our products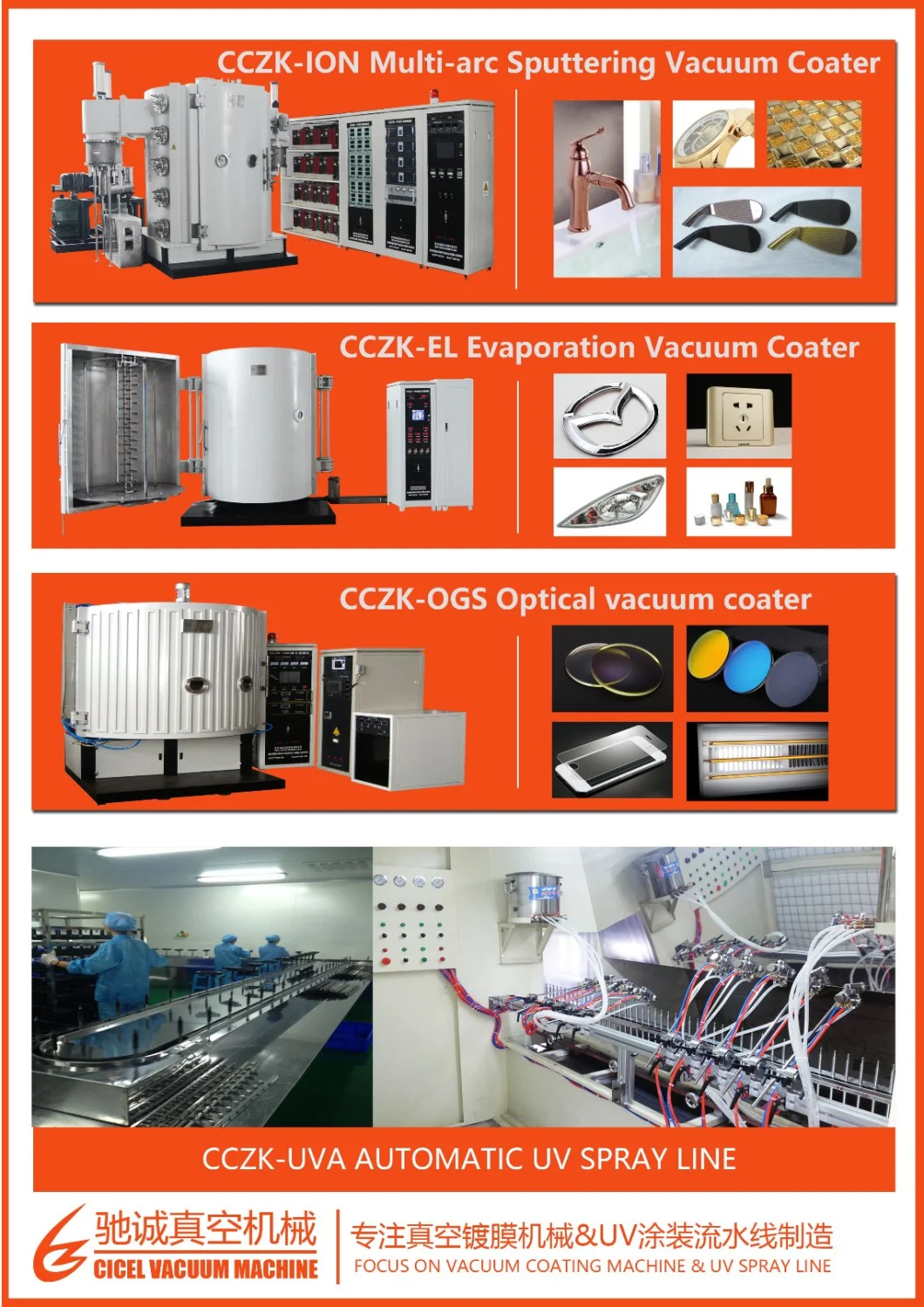 Our customer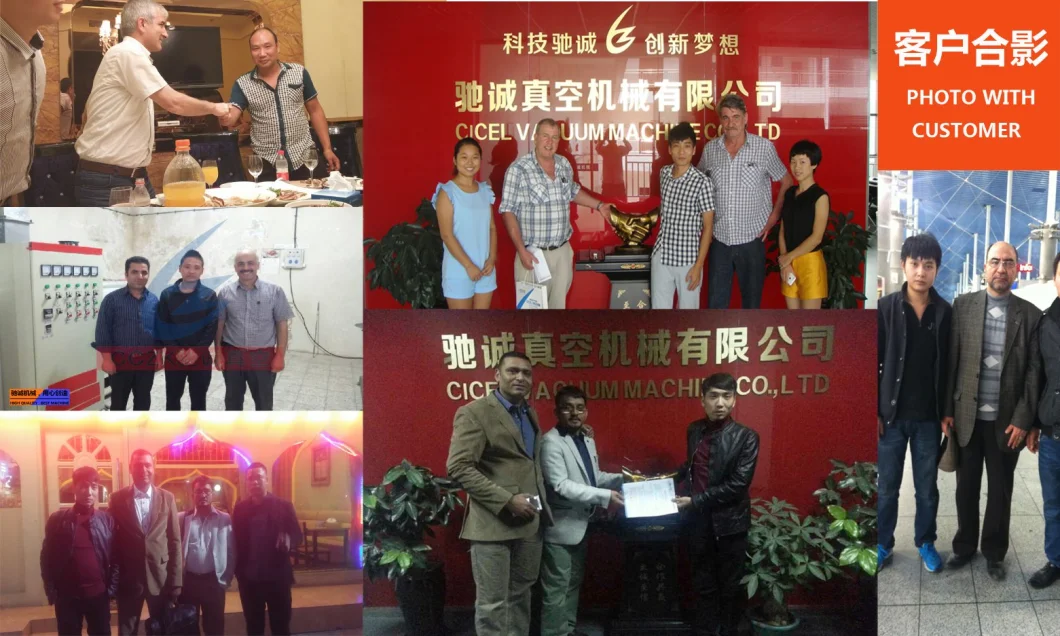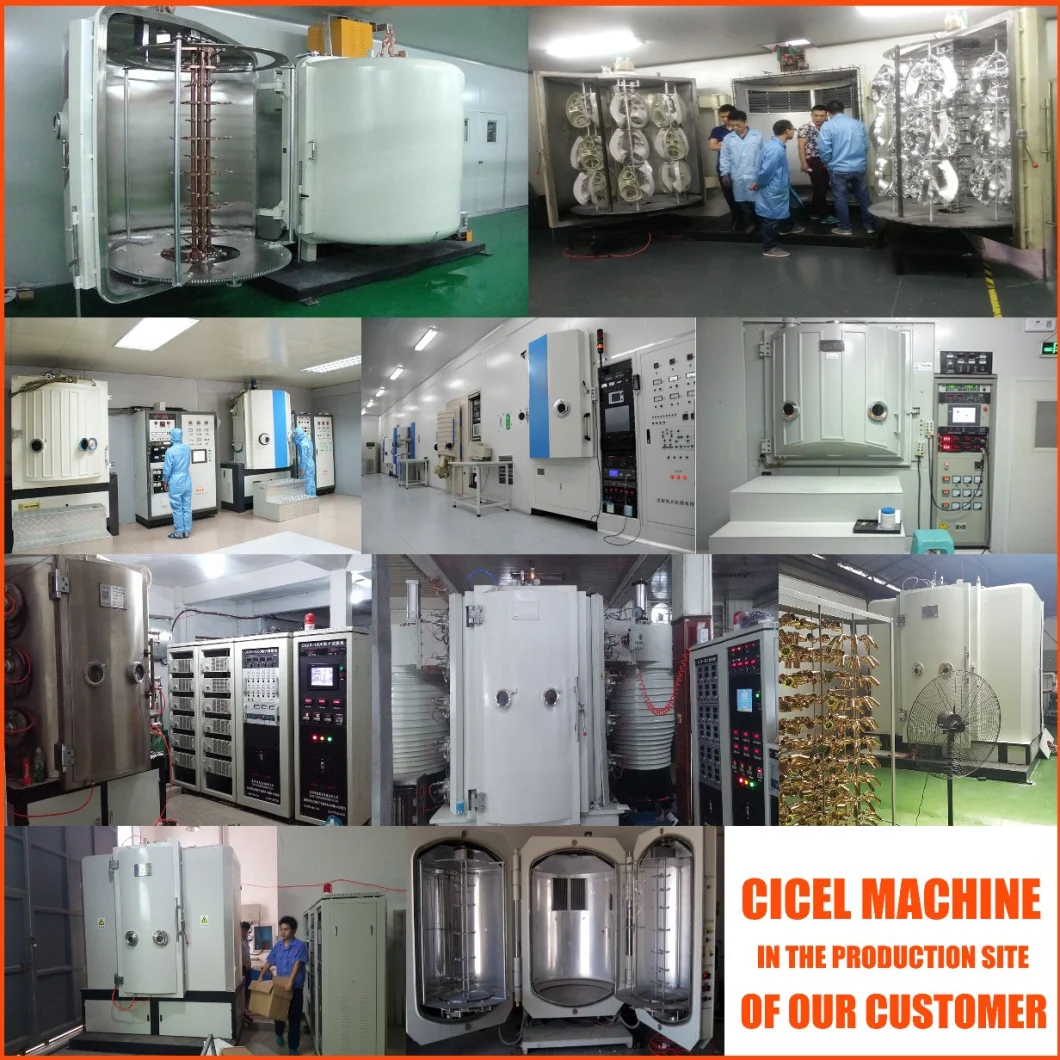 Delivery picture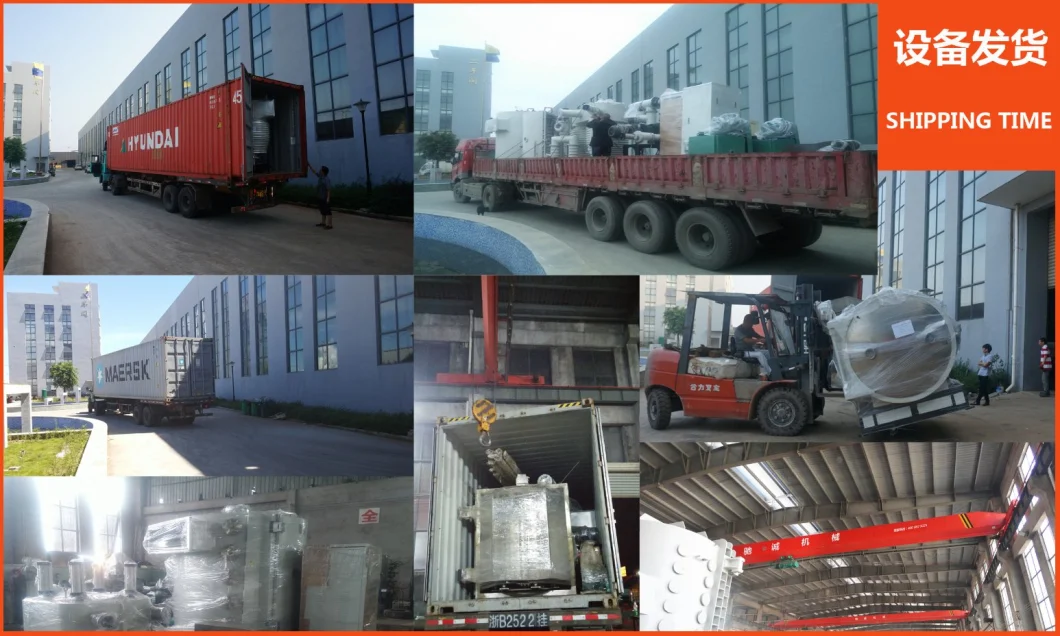 Support Service & Philosophy
At CICEL, we stand behind our systems with a dedicated service team who can diagnose and provide support when required, allowing you to maximize the return on your investment. Some of the parts and services that we offer include:
Reply your enquiry within 24 working hours

Experienced sales engineer will give your professional suggestion according to your details requirements

Offer customized design machine and overseas after-sales training. Buyer's engineer can come to our factory for machine and process training , or our engineer can visit customer's factory for professional training.

Supply replacement parts and consumable item for machine

Retrofits and Upgrades

Maintenance agreements

Technical Assistance and Consulting
Our dedicated service team is available 24/7 to provide superior service and to meet the needs of our customers. From the initial installation and training to providing maintenance on existing equipment, we are here for you.
Contact us
for more information on evaporation vacuum Coatings machine or to request a quote