Very Profitable Aluminum Foil Container Production Line
Complete Automatic Aluminium Foil Container Making Machine
Model: SEAC-130AS (Six Cavities or Sevrn Cavities Capacity !)
Units: Automatic Feeder+Automatic 130Ton H Type Press+Cavities Mould+Auto Stacker+Scrap Sucker & Auto Presser.
It fit for all common size Aluminum Foil Container production requested. The Big capacity could to cover big range of size products. Lower power requested than other old model machines.
Specification:
1.Raw material: Aluminum foil; Thickness: 0.030mm ~0.280mm;
Alloy: 8011,8006,3003,3005; Temper O to H24;
2.Good Japan's Inverter, PLC and 10inch Touch Screen control system;
3.Max. width of Aluminum foil: 1220mm;
4.Max. diameter of Aluminum foil: 1000mm;
5.Core diameter of Aluminum foil: 76mm(152mm as Optional );
6.Working speed: 40-75 times/min;
7.Total Power: 20kw+2kw+2.5kw+3kw;
8.Compressed air needed: 0.5- 0.8 Mpa, 0.4m3/min;
9.Install dimension: 7100*2600*3600mm;
Technical Data:
Max.mould size: 1480*900*450mm;
Slide block stroke:150-260mm ; (Offer Stroke adjustable system as option!)
Automatic mould adjust unit: 0.5kw;
Work plate dimension: 1700*900mm;
Mould handle hole dimension: 80*80mm(Diameter*Depth);
Power: 4P, 380/220V, 50/60Hz;
Net weight: 13,000kg.
SEAC-130AS is the Six cavities or Seven Cavities capacity model production line for AFC.
Complete automatic level upgrade your factory capacity, lead your company be higher level competition and situation.
We are one of the rare manufacturers and traders in the aluminum foil container industry. We produce the automatic smart aluminum foil container production line and the aluminum foil container mould ,aluminum foil container,aluminum foil container Paper Lid and so on. We can buy some special specifications aluminum foil with cheaper price, because our aluminum foil purchase is very large and the supplier likes it. They are willing to provide us with relatively low price aluminum foil raw materials.
We can provide customized services for aluminum foil container customers. We can make the mould by ourselves. Special mould can help you gain greater profits. If a new and well designed container appears in a country market, it can sell higher prices. For example, one of our Customers in UK, we produce 450ml aluminum foil containers for 63mic for him, and in the UK market, the general thickness of this product is 45mic, so our customers have entered the high-end market. When the profits of others are getting lower and lower, his profits are very good. Of course, we can guarantee the quality of our moulds and not sell them to other container manufacturers in the market.
With the rapid rise in the prices of paper and plastic, and people feel that these products is't environmentally friendly. There is a growing demand for aluminum foil containers is increasing on the worldThis is a very good business now and in the future.
Aluminum Foil Container have more than 60years history used as food packaging, it can be every you need to pack.
Let us use the popular 450ml container as an example
If this 450ml mould is Five cavities, 80Ton production line speed work with Auto stacker is 60times per min., Each weight 6.3g ,The scrap cutting rate four cavities 14.6% and five cavities scrap rate is 14%. and suppose products is 100% good ;
(1)Required Aluminum foil size :Width 980mm*Thickness 0.063mm ;(If the material arrive your factory total cost is 2600usd/Ton) Maybe cheaper !!!
(2)Each day,you are running 20 hours to produce the container;Each machine one labour to control)
According this,our machine can make 360000pcs one day,and Consumes 2.637 tons of Aluminum foil
Scrap Aluminum foil price in your market about 1000usd per ton; do not forget that 14% scrap is also your profit.
Scrap 2.637T*14%=369kg about per day , so, the scrap profit is about 369usd per day
SE have 55ton,63Ton,80ton,130Ton, Common feeder, Embossing feeder ,Common collector and Auto Stacker, Automatic scrap system for your option.
SEAC-130 is almost instead of by our SEAC-80. But some special market requested biggest machine to cover some biggest containers and big capacity, it's still comfortable option.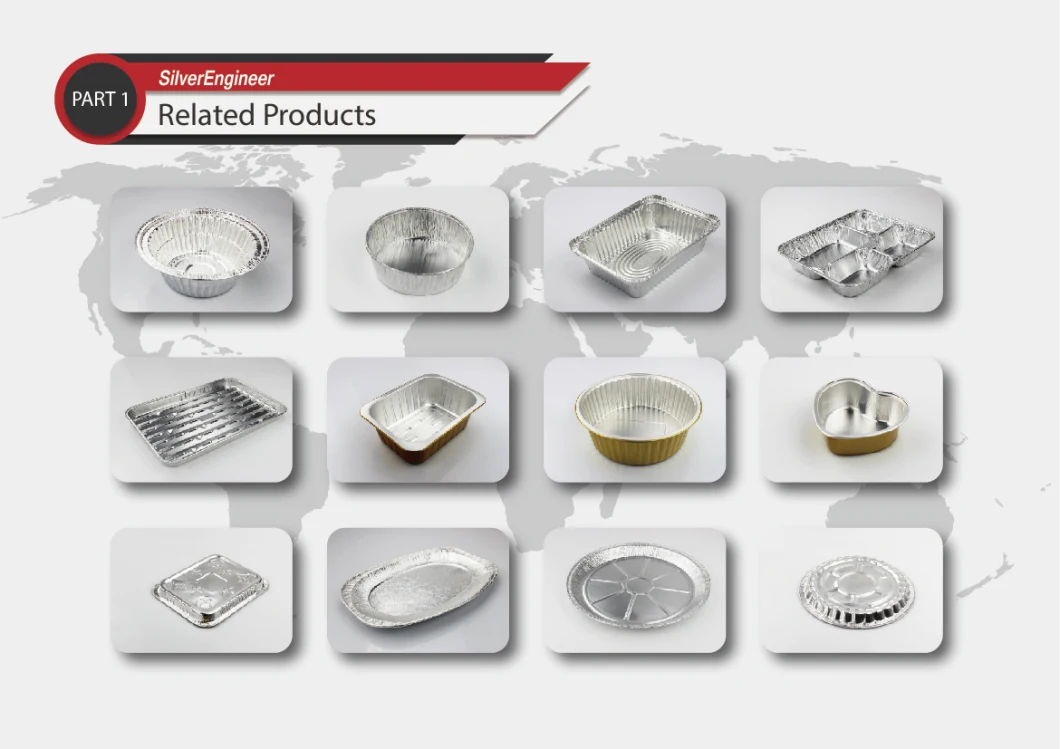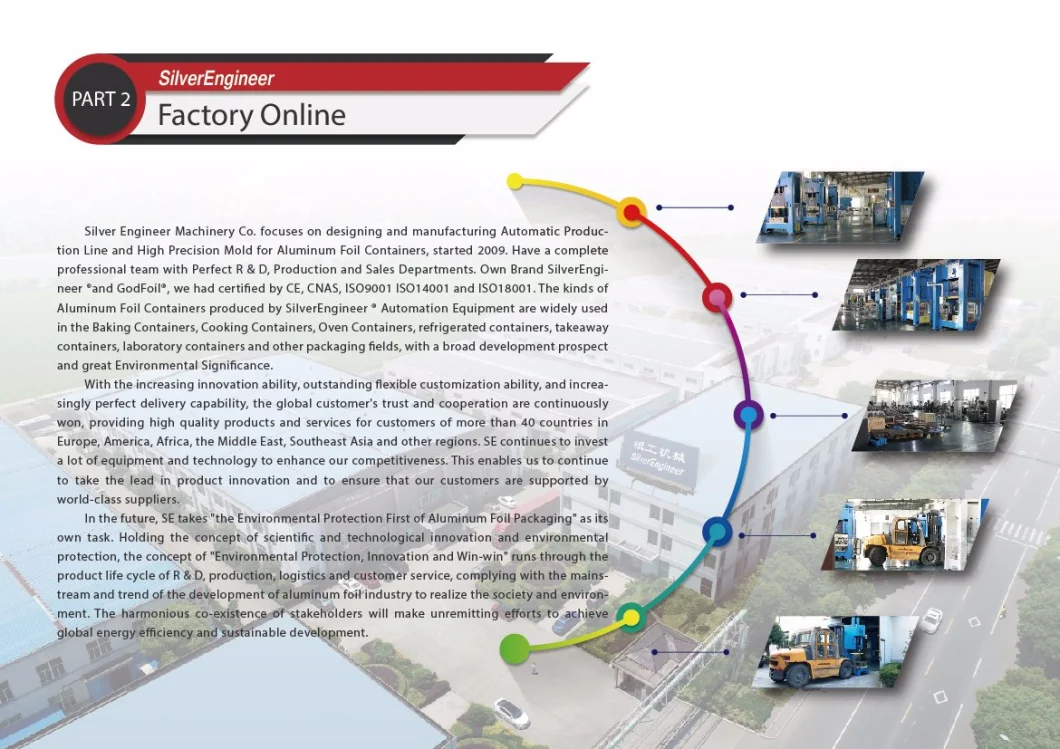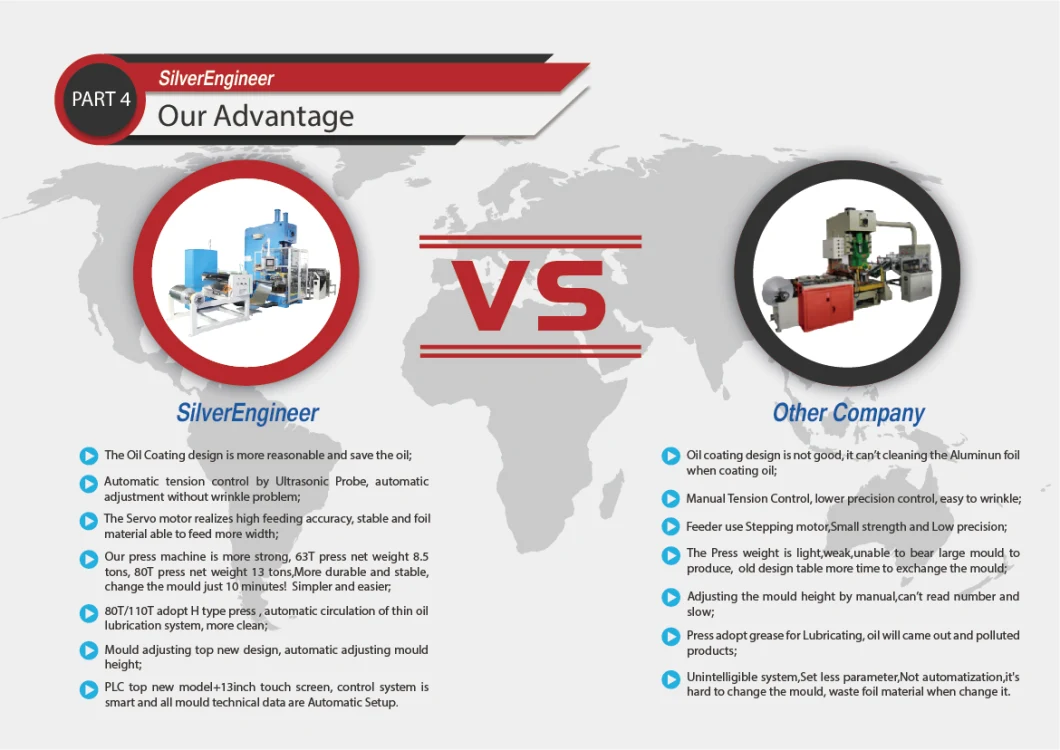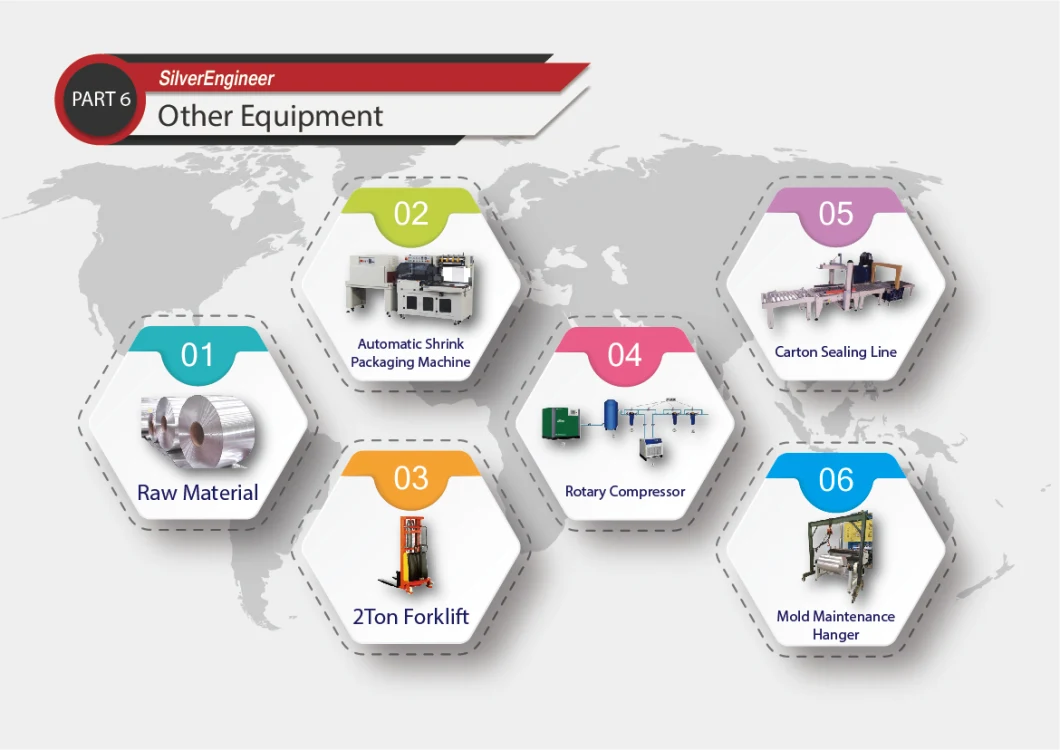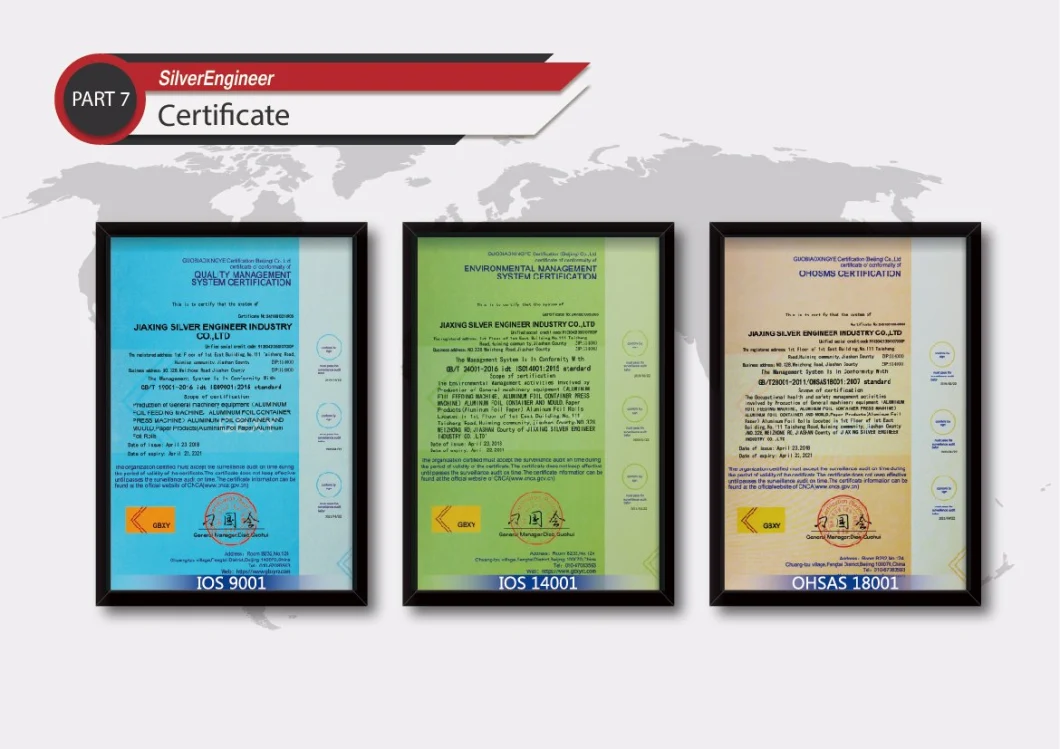 About SE
Silver Engineer Machinery Co. focuses on designing and manufacturing Automatic Production Line and High Precision Mold for Aluminum Foil Containers, started 2009. Have a complete professional team with Perfect R & D, Production and Sales Departments. Own Brand SilverEngineer ®and GodFoil®, we had certified by CE, CNAS, ISO9001 ISO14001 and ISO18001. The kinds of Aluminum Foil Containers produced by SilverEngineer ® Automation Equipment are widely used in the Baking Containers, Cooking Containers, Oven Containers, refrigerated containers, takeaway containers, laboratory containers and other packaging fields, with a broad development prospect and great Environmental Significance.
With the increasing innovation ability, outstanding flexible customization ability, and increasingly perfect delivery capability, the global customer's trust and cooperation are continuously won, providing high quality products and services for customers of more than 40 countries in Europe, America, Africa, the Middle East, Southeast Asia and other regions. SE continues to invest a lot of equipment and technology to enhance our competitiveness. This enables us to continue to take the lead in product innovation and to ensure that our customers are supported by world-class suppliers.
In the future, SE takes "the Environmental Protection First of Aluminum Foil Packaging" as its own task. Holding the concept of scientific and technological innovation and environmental protection, the concept of "Environmental Protection, Innovation and Win-win" runs through the product life cycle of R & D, production, logistics and customer service, complying with the mainstream and trend of the development of aluminum foil industry to realize the society and environment. The harmonious co-existence of stakeholders will make unremitting efforts to achieve global energy efficiency and sustainable development.