Applications:
This machine is suitable for automatic cartoning for tubes, ointment, bottles, soaps, soft packages, such as sachets, condoms etc. It consists of direction folding (1-4 folds)and feeding equipment, carton forming and feeding, batch number printing, sealing of case tongues at both ends ect. The whole encasing process is finished automatically. It can be added hot-glue machine
Feature:
1. International famous brand of electric components such for PLC touch screen, frequency inverters, etc.
2. Transport of automatic System and manuel System with stooping automatically for overloading.
3. Automatically displaying device for trouble, speed and finished products counting.
4. Automatica detection and rejection device for lacking of blisters goods or leaflets.
5. Stable performance, operation is easy
Main machine parts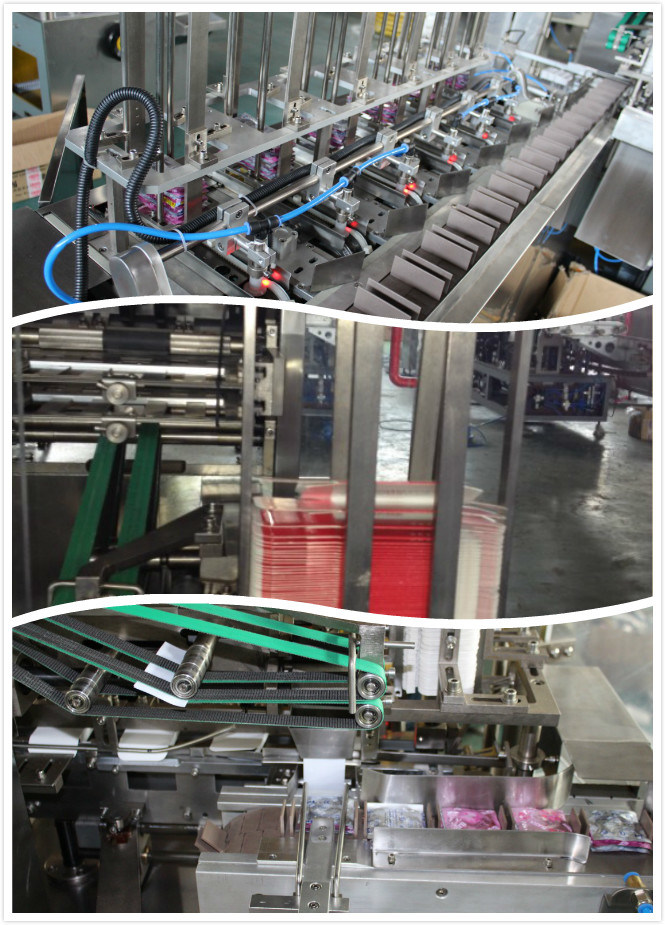 Sachet stacker, box stacker and product pushing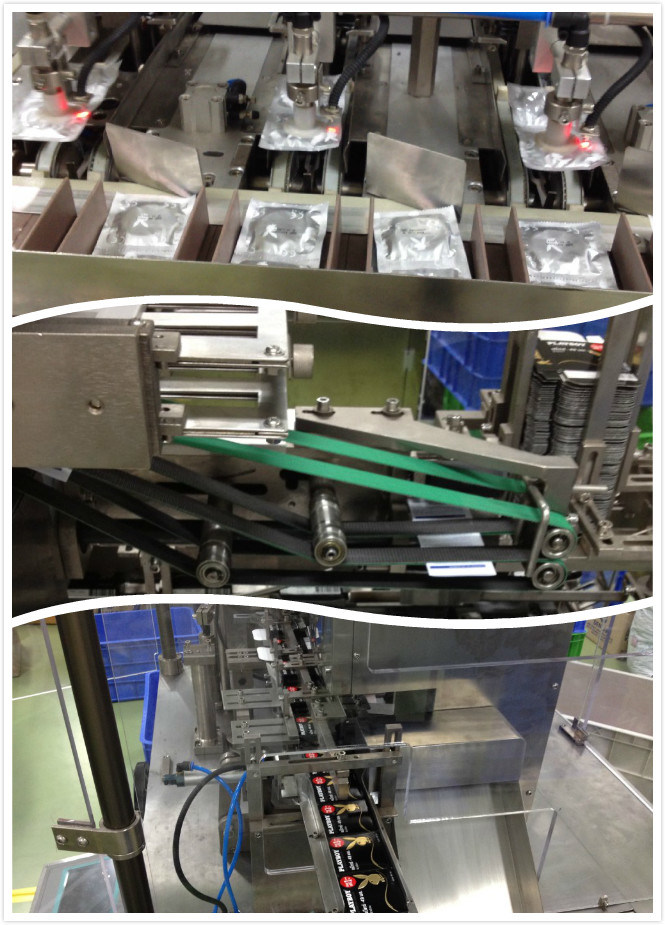 product feeding, leaflet folding and final product output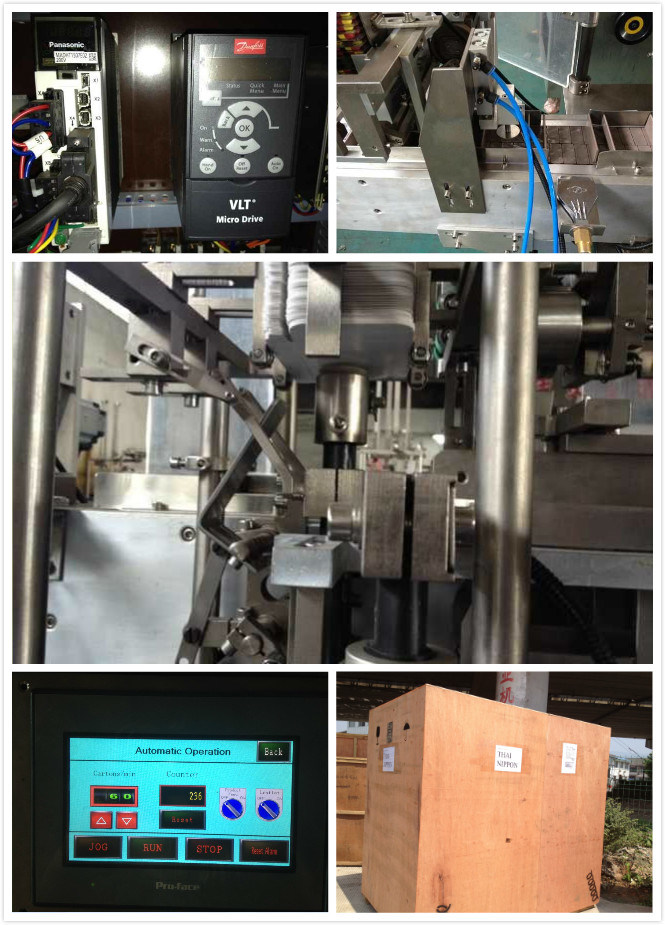 Famous brand electrical parts( Panosonic and Danfoss)

Rejection device for product lacking of product

Box sucking and forming

Profoce touch screen for convenient operation

Machine ready for delivery
Main electrical component
Item
Parameters
Encasing speed
30-120 boxes /min
Box
Quality requirement
250-350g/m2[Base on carton size]
Dimension range(L×W×H)
(65-125)mm×(30-85)mm×(12-50)mm
Leafle
Quality requirement
60-70g/m2
Unfolded leaflet specification
(80-250mm×(90-170mm
Fold range
[1-4]Fold
Compressed air
Working pressure
≥0.6mpa
Air consumption
120-160L/min
Power supply
220V 50HZ
Main motor power
0.75kw
Machine dimension(L×W×H)
2300mm×1140mm×1800mm
Machine weight
1200kg
Main component list
| | | | | |
| --- | --- | --- | --- | --- |
| No. | Name | Specification | Qty | Place of origin and brand |
| 1 | Main motor | R17DT80N4 750W/220V/380V | 1 | Germany SEW |
| 2 | Frequency Converter | FC-051PK75S2E20H | 1 | Denmark Danfoss |
| 3 | Breaker | DZ47-D63/2P | 1 | Chinese Yaohua |
| 4 | Breaker | DZ47-D63/1P | 3 | Chinese Yaohua |
| 5 | Switch Power | NES-50-24V | 1 | Taiwan Mingwei |
| 6 | Power Switch | T0-2-1/EA/SVB | 1 | Germany Queensway Moeller |
| 7 | Emergency Stop Button | ZB2-BE102C | 1 | France Schneider |
| 8 | Relay | MY2NJ/24VDC | 5 | Japan Omron |
| 9 | Touch Screen | GC_4408W | 1 | proface |
| 10 | PLC | CPU224/DC/DC/DC | 1 | Germany Siemens 200 |
| 11 | Coder | E6B2-CWZ6C | 1 | Japan Omron |
| 12 | Optical Fiber Amplifier | E3X-NA11 | 2 | Japan Omron |
| 13 | Optical Fiber | E32-ZD200 | 2 | Japan Omron |
| 14 | Photoelectric Switch | D-73277 | 2 | Germany Leuze |
| 15 | Proximity Switch | 1M12-4NNS | 1 | Germany SICK |
| 16 | Filter Pressure Reduce Valve | AW30-03E | 1 | Japan SMC |
| 17 | Electromagnetic Valve(Reject) | VQ21A1-5G-C8 | 3 | Japan SMC |
| 18 | Electromagnetic Valve | VQ2321-5G1-02 | 2 | Japan SMC |
| 19 | Silencer | AN402-04 | 2 | Japan SMC |
| 20 | Vacuum Generator | ZH20DS-03-04-04 | 2 | Japan SMC |
| 21 | Servo Drive | 200W MBDHT1507E | 1 | Japan Panasonic |
| 22 | Servo Motor | 200W MHMD022G1C | 1 | Japan Panasonic |