Machine Description:
KXZ-130 automatic cartoning machine suitable for pharmaceuticals, food, household chemicals, hardware and electrical industries for the packaging of blisters, bottles, vials, pillow packs, toothpaste, ect. It can fold leaflets, open cartons, insert the products and leaflets into cartons, emboss, tuck-in or hot-melt closures and automatically discharge cartons. The machine is equipped with a series of sensors and automatic protective devices to assure the machine runs safely and effectively. It can connect with the Blister Machine, Pillow Packaging Machine, Shrink-Wrapper, etc., to form a Packaging Line. It is the best choice for mass production.
Features:
1. Japan Omron PLC control
2. Japan Omron inverter
3. Japan Omron touch screen
4. Automatic stop when machine is overload
5. Automatic reject lacking of package product and leaflet
6. Automatic trouble display, alarm and counting
7. Stable performance, operaion is easy


Main Technical Parameters:
Packing speed
30-80 cartons/min
Size of package
L(90-260)mm×W(60-130)mm×H(30-90)mm
(Special size can be customized)
Cardboard requirements for packages
250-450g/m²(up to the size of package)
Motor power
1.5kw
Power supply
380V 50HZ or 220V 50HZ
Maximum noise
80dB
Minimum Air pressure
0.5-0.8 Mpa
Air consumption
120-160L/min
Overall dimension
L3800mm×W1350mm×H1900mm
Weight
1500Kg


Machine Parts: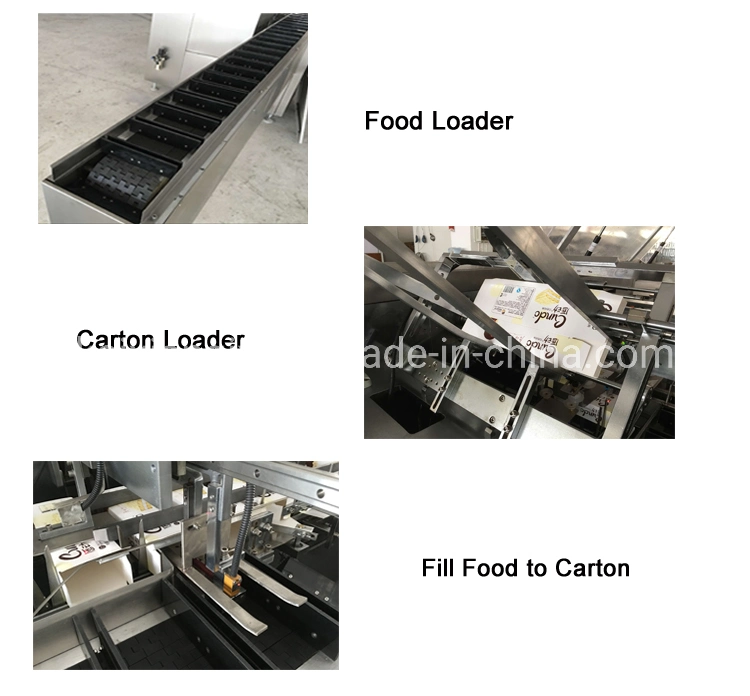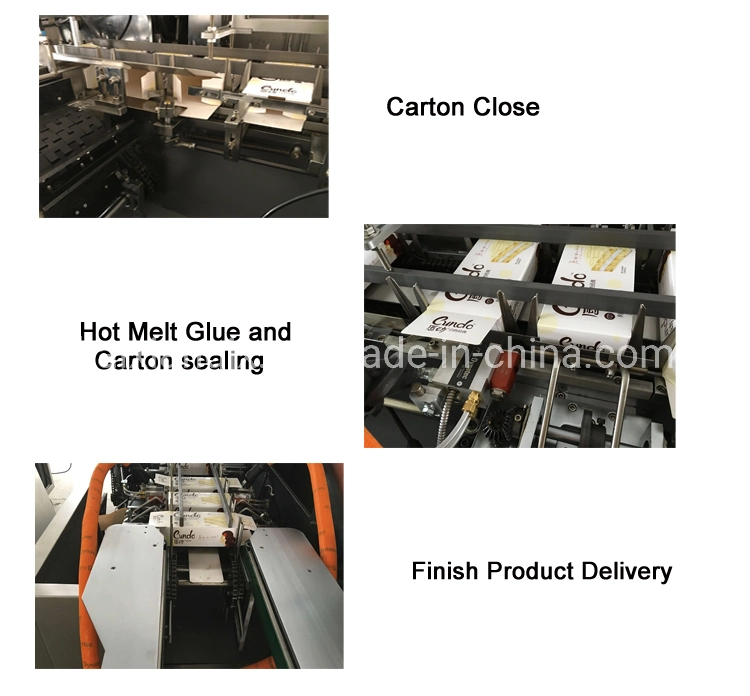 Application industry
Stationery packaging: pen, chalk, crayon, stapler, playing cards, ink paste, building blocks, etc.
Pharmaceutical packaging: oral liquid, medicine bottle, vial, bagged granule, antipyretic patch, etc.
Food packaging: ice cream, wafer roll, biscuits, chocolate, pastries, bagged coffee, tea bags, etc.
Daily necessities packaging: toothpaste, cosmetics, perfume, facial mask, antipyretic patch, condoms, pregnancy test paper, mosquito-repellent incense, etc.
Fragile items packaging: bearings, bulbs, switches, sockets, electric relay, chargers, etc.
Auto parts packaging: spark plugs, filters, piston rings, automotive bulbs, automotive appliances, valves and so on.
Tissue paper packaging: napkin, tampon, pads, cotton pads, etc.
Main parts list:
Item
Name
Model and specification
Origin
QTY
1.
PLC
CPIE-N30DT-D
Japan Omron
1
2.
PLC Extended Module
CPIE-C1F11
1
3.
Touch Screen
NB7W-TWOOB
1
4.
Inverter
3G3JZ-A4015
1
5.
Photoelectric Sensor
SICK 121
SICK
4
6.
Motor
CH-1500-10S 1.5KW
Taiwan CPG
1
7.
Index Drive
0S83-4L-180
Zhejiang
1
8.
Button
XB2
France Schneider
3
9.
Emergency Stop
ZB2 BC4D
1
10.
5 relay
Zhejiang
1
11.
8 transistor
1
12.
Solenoid Valve
4V210-08
AirTAC
2
13.
Air Filter/Regulator/
BFR-2000
1
14.
Proximity switch
TL-Q5MC1
Japan Omron
2
15.
Sucking disc
VF-30
Korea
2
16.
Vacuum Generator
ABM20-C
SMC
1
17.
AC contactor
LC1E3210M5N
France Schneider
1
18.
Switching power supply
PMC-24V 050V
DELTA
1
19.
Air switch
3P32A 1P10A
France Schneider
Each1
20.
Encoder
B-ZSP3806E2C
Japan Omron
1
21.
Cover
Stainless Steel
Shanghai
1 SET

Package during shipment: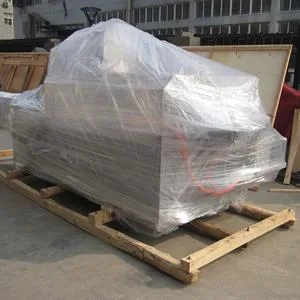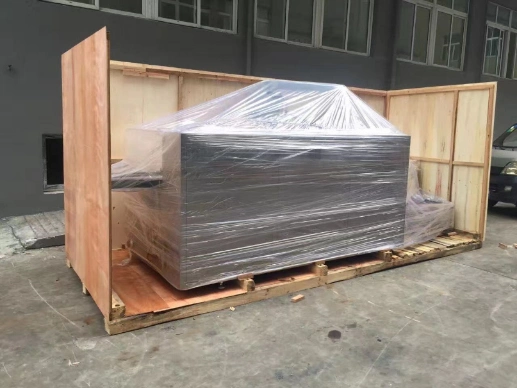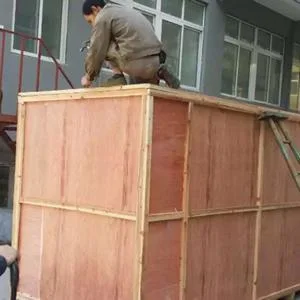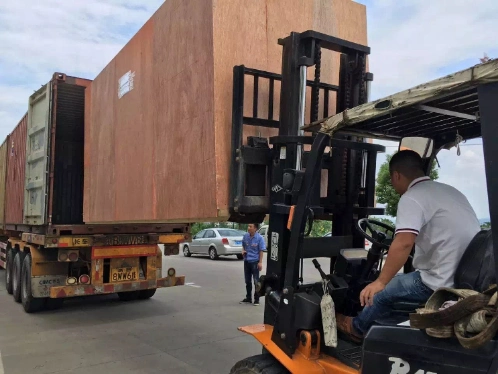 FAQ:

1. How long will your engineer reach our factory?
Within one week after machine arrival your factory.
2. How many days will you finish installing ?
We will finish installation and training within 15days.
3. What should we charge for your engineer?
You should charge for the cost of our engineer's visa , air tickets, hotel, food ,and also their salary 80USD one day per person.
4. How long is your machine's warranty period?
All our machines have one year guarantee, starting from finished installation.
5. How could we do after one year warranty period?
We also can do service for you, but you need pay salary for our technician 80USD/day.
6. How could we do if the parts broken within warranty?
We would express the free replacement parts during the warranty date.
7. Does your engineer understand English?
Our engineer understand a little English. All our engineers have more than five years machine installation experience. In addition, they can use body language to communicate with customer.
8. Can you help us find any engineer in our location?
Of course, we will check and inform you as soon as possible.
9. How do we solve the machine problem after your engineer leaving?
Generally speaking, there will be no problem after finish installing. In case you have any problem, you can contact with our sales at any time. Our engineer will take a solution video according your description.
10. How many worker do we need running those machines?
Usually two or three people is ok. If it is manual feeding, more people are needed, mainly according to your production capacity.